Speaker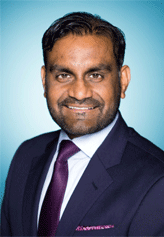 Thomas Rajan
Vice President – Global Talent and Total Rewards
Thomas Rajan is the Vice President, Global Talent and Total Rewards for American Airlines. In this role, Thomas leads the design, execution and operations of all compensation, benefits, and employee health programs, as well as overseeing talent acquisition, performance management and people analytics in support of a global workforce powering the world's largest airline.
Prior to this role, Thomas held a variety of senior leadership and advisory roles in Human Capital and business functions, including most recently as the Managing Director of Global Learning for American overseeing all people development and talent strategy. Prior to (re)joining American in 2017, Thomas served as Senior Vice President of Strategic Leadership Development for the Boys & Girls Clubs of America (BGCA). Prior to his service at BGCA, Thomas was a management consultant with McKinsey & Company, serving clientsworldwide on Commercial Planning, Strategy, Operations, and Organization, and was one of the leaders of the Human Capital practice in North America.
Before joining McKinsey, Thomas was Manager, Network Planning at US Airways, responsible for schedule planning and route optimization. He has also held roles in Financial Planning with The Boeing Company and in Customer Service and Operations with British Airways, and America West Airlines.
Thomas holds a Master of Business Administration (MBA) from Harvard Business School and a Bachelor of Science (BS) Summa Cum Laude in Finance from Arizona State University. Thomas and his wife Keerthi live in the Dallas-Fort Worth area with their three sons and enjoy indulging each other in a shared love of movies, or playing and watching soccer and golf.